Downtown New Braunfels project expected to trigger more development
Dining, retail and entertainment spaces are planned for an underutilized area that could spur more change.
A group of New Braunfels entrepreneurs is advancing plans to redevelop a nearly 3-acre site in the historic city into a downtown destination featuring a mix of restaurant, bar, retail and entertainment spaces.
Co-Op Marketplace is the vision of Ron Snider, who was involved in multiple urban redevelopment projects in New Braunfels before his death in April 2021, and those tasked with carrying out this latest concept believe it will catalyze a larger downtown rebirth.
Snider's son Chris is part of the group that took on the task of bringing that vision to fruition. It's been an emotional journey.
"There was a point in the hospital when he had the first round of renderings done and I said to him, 'I wish you were going to see this project completed,'" Chris Snider said. "He said to me, 'I see it.'"
The younger Snider, who did not disclose the cost of the project, is getting help from some of his father's partners, including attorney Mike Myers and real estate developer Fred Heimer, as well as his mother, Carol.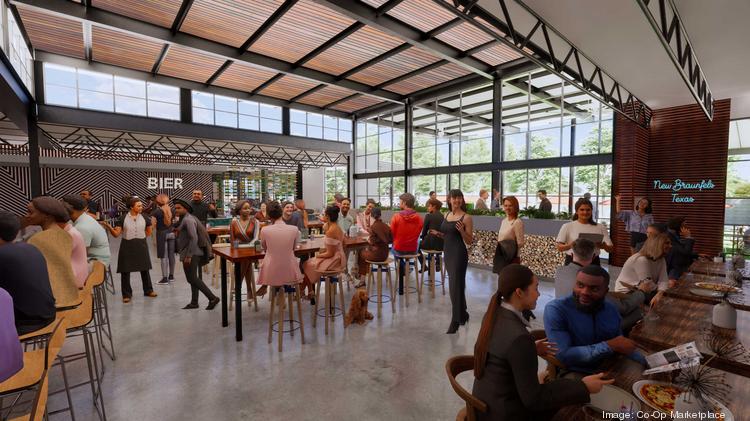 "It has evolved a lot along the way, while still holding true to what my dad and his partners originally envisioned," Snider said.
San Antonio-based Mogas+Gonzalez Associated Architects is assisting with the project and has worked closely with the owners to repurpose and recycle the existing and historically designated structures.
The development will house a mix of restaurant and retail tenants as well as some smaller businesses in a 13,000 square-foot marketplace that will focus on artisanal and regional foods and products. It will also include more than 25,000 square feet of indoor real estate for larger retail and culinary tenants and more than an acre of outdoor space.
Co-Op Marketplace will include a reuse of existing agricultural buildings and the transformation of a 65-foot grain silo into the market's west entrance. The project is situated along South Castell Avenue in an area New Braunfels leaders have worked for years to redevelop.
Before his death, Ron Snider talked about his mission of finding new purposes for old buildings.
"I just peel them back. The bones are all there," he told me. "When you build new, that's the hard part. That's a bigger challenge to be true to the community."
Retired New Braunfels Chamber of Commerce CEO Michael Meek said Ron Snider helped catalyzed a downtown resurgence.
This latest project could further fuel that renaissance.
"I think we're starting to hit that critical mass," Chris Snider said.
Co-Op Marketplace is slated to open in 2024. Construction is scheduled to begin in 2023.